Khajjiar : Switzerland-of-Himachal-Pradesh(INDIA)
2016-04-15 12:13:43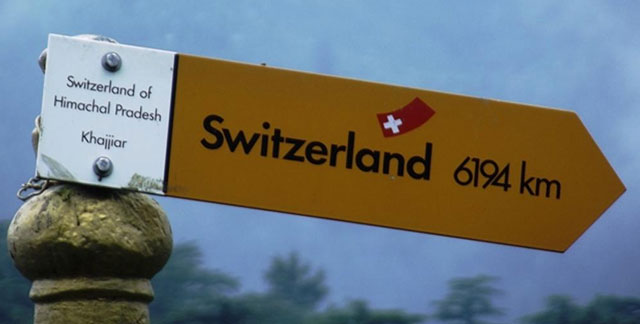 Switzerland-of-Himachal-Pradesh
In Himachal Pradesh Khajjiar which is an extremely beautiful & picturesque place. Khajjiar is located in the Chamba district of Himachal Pradesh at a distance of 570 km from Delhi and 24 km from Dalhousie. Due to its beauty Khajjiar is also called "Mini Switzerland".
7 Best Places to Visit in Khajjiar | Mini Switzerland of India
Khajji Nag Temple
Khajji Nag Temple was built way back in 12 Century AD. This temple is located near the lake and is also believed to be one of the holiest temples in Himachal Pradesh. This ancient temple has a mandapa inside it where you can see the hanging images of Kauravas with the defeated Pandavas (From the ancient epic Mahabharata). Khajji Nag Temple is dedicated to Khajji Nag who is known to be the Lord or the Serpents.
This temple is located in the beautiful Chamba District and is a very popular tourist attraction. The construction of Khajji Nag Temple started in 10th Century AD and this temple reflects a mix of Hindu and Muslim architecture. The chambers of this beautiful temple are carved out of wood and the interiors have idols of Lord Shiva along with Goddess Hadimba.

Khajjiar Lake and Ground
Khajjiar Lake & Ground is a beautiful place and is a real treat to the eyes. This place bears a striking resemblance to lush green Switzerland and can be reached via Bakrota Hills from Dalhousie. While you move towards Kalatop Khajjiar Sanctuary, you would be able to see the Lakkad Mandi. When you move further down, you can see the Khajjiar Ground and the extremely beautiful lake located centrally in it.
This place has been a part of lot of Bollywood Movies including Shahrukh Khan, Kajol & Rani Mukherjee Starrer "Kuch Kuch Hota Hai". The Khajjiar lake is considered a holy lake because of its association with the idol of Khajji Nag Temple. Khajjiar Lake is located at about 20 km from Dalhousie and it is spread over an area of 5000 sq yards. The lake has been a major tourist spot because of the grasses and weeds that have grown on it which looks like a floating island. The Khajjiar Ground is located at an elevation of 1950 m above the sea level and is a popular place to spend your day with friends and loved ones.

Khajjiar Villages
Khajjiar is also popular for its beautiful & small Villages like Rota, ladi etc which are situated near the slopes. Within the tall deodar forests of Khajjiar these villages are quite near to the ground of Khajjiar. These small villages are quite popular in this area for Apple Orchards.

Panch Pandav Tree
The Panch Pandav Tree is a very popular tree located in the ground of Khajjiar and famous for its shoots. This tree is located near a rest house while moving towards Khajjiar School. There are a total of 6 shoots coming out of the tree. However, the shoots and the main root of the tree are the same. Local people of Khajjiar say that the five shoots of the this tree stands for the Five Pandavas and the last one stands for Draupadi.
Trees having many shoots is not a surprise in Khajjiar. When you move on the way to Dalhousie from Khajjiar, there is a tree with 13 shoots! This tree is also known to be "Mother Tree" of the whole region.

Kalatop Wildlife Sanctuary
Located in between Oak and coniferous trees, Kalatop Wildlife Sanctuary is spread over an area of 19.63 sq km.
This lovely sanctuary is has species like deer, serow, jackal, leopard, black bear, wild cats, Himalayan black marten and others. While you are in the Sanctuary you would also be able to see many endangered species of animals and birds. This sanctuary is located in between Dalhousie and Khajjiar.